TOMORROW'S PARKING, RIGHT NOW
Offering solutions that combine ecological awareness and serenity in daily journeys
A PLATFORM FOR EVERY SHARED PARKING AND MOBILITY NEEDS
Simplify parking with a smarter management.
Use our SmartParking platform to optimize parking in your buildings!
Centralize your parking data to work more efficiently, increase incomes and improve the parking experience with an all-in-one solution (digital access control, mobile payments and more)!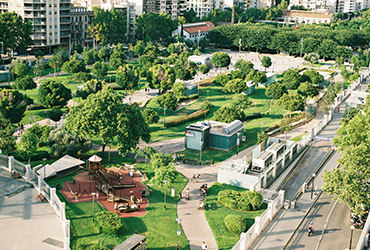 Response to reasoned urban planning policies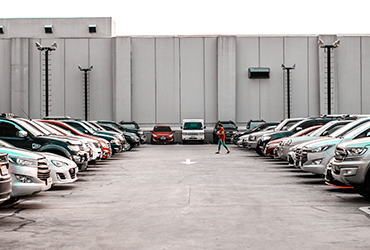 Parking spots' exploitation to their fullest potential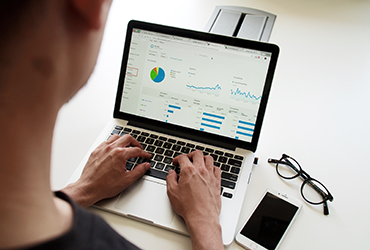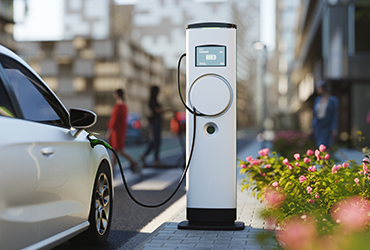 Decrease of CO2 emissions
SmartParking
The platform that manages shared parkings, with a mobile app and a website for bookings.
An innovative solution for shared parking in a defined geographical area, SmartParking handles the dual objective of reducing construction costs and increasing the local parking offer.
In this way, the service allows a reasoned and optimized urban planning in perfect fit with users' expectations, whether they are citizens, residents, employees, merchants or visitors.
SmartParking is directed at users by making easier parking in tension zone (via the app or the website) and allows operators to guarantee the quality of service expected by their customers while optimizing their parks (via our management platform).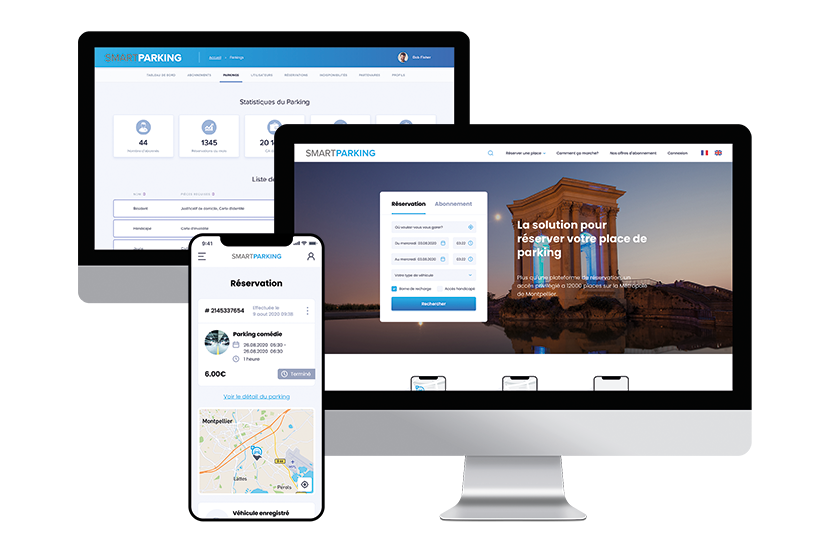 FEATURES FOR THE USER
From the mobile app for a last-minute booking or from the website for an early booking from home.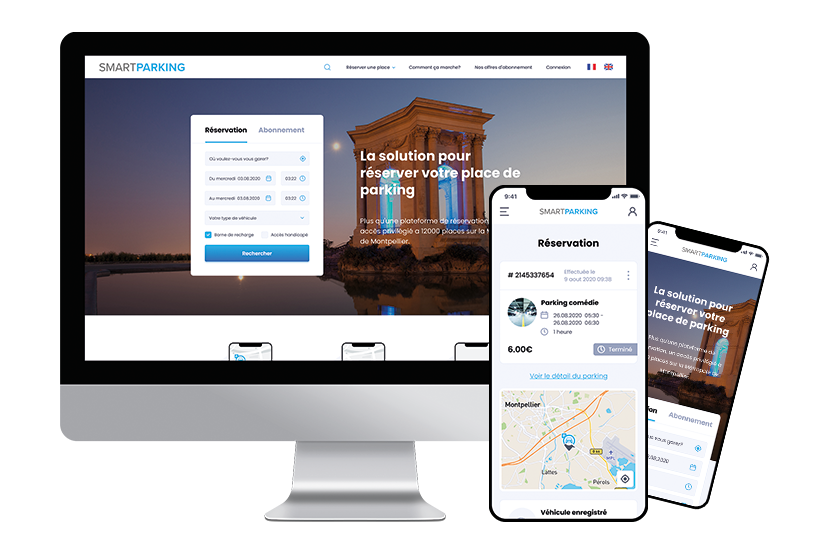 SEARCH FOR PARKING SPOTS
Multi-criteria: place, price, charging station, etc.

SECURED ACCESS TO THE PARKING
By QR code, entry code, etc.

HOURLY BOOKINGS
Short-term parking

Mobility as a service
Mobility pack: bike, tram, bus, parking, scooter, etc.

SUBSCRIPTIONS
Regular parking

CHARGING STATIONS
Use optimization

RENTALS
Long-term parking
FEATURES FOR THE OPERATOR
To optimize parking.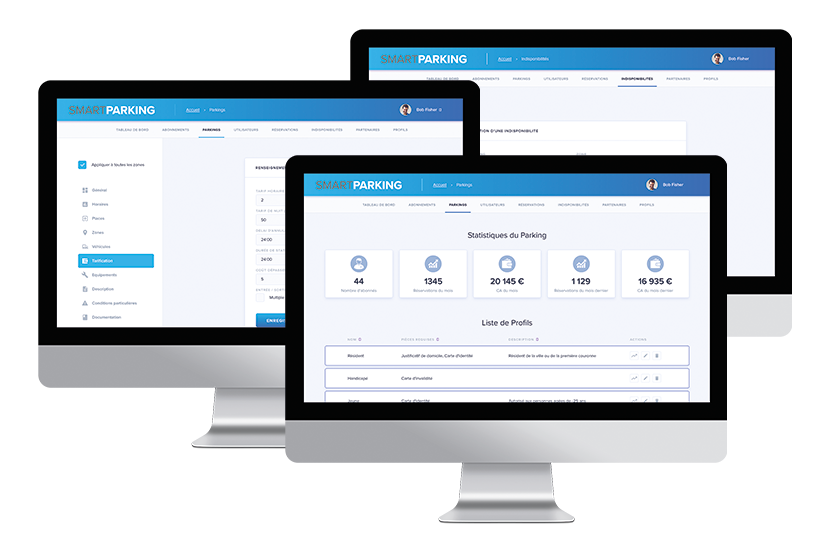 DYNAMIC QUOTAS MANAGEMENT
Optimization of parking spots availability

EQUIPMENTS MANAGEMENT
Opening, locking, dynamic display, etc.

BOOKINGS MANAGEMENT
Cancellations, new booking opening, etc.

CHARGING STATIONS MANAGEMENT
Use optimization

PARKING AREAS
Parking organization by areas: VIP, green, family, etc.
ARTIFICIAL INTELLIGENCE SERVING THE OPERATOR AND PARKING
Our SmartParking software uses artificial intelligence that allows it to continuously learn from the collected data.
Thanks to its analyses, it can offer dynamic quotas that are increasingly reliable and therefore optimize the parkings occupancy rates.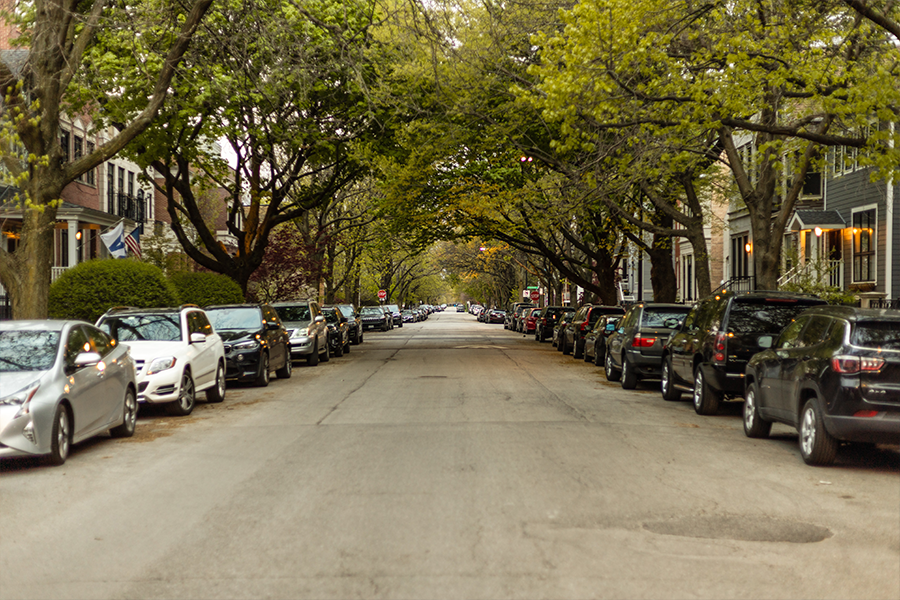 OPTIMIZATION OF YOUR PARKING OCCUPANCY RATE

PUNCTUAL RECEPTION OF GUESTS OR VISITORS

PARKING SPOTS OR SUBSCRIPTIONS HOURLY SALE

REDUCTION IN YOUR EXPENSES

PROVISION OF SHARED ELECTRIC CHARGING STATIONS

PROVISION OF SELF-SHARING ELECTRIC VEHICLES